India, the world's seventh-largest country, is a living mosaic of culture, traditions, languages, and landscapes. Comprising 28 states and 8 Union Territories, India's diversity is truly remarkable. Each state boasts a unique character, offering travelers an array of experiences, from the snow-capped mountains of the north to the tropical beaches in the south. Let's take a journey through some of India's most distinct states, each a world unto itself.
1. Rajasthan – The Land of Kings: Rajasthan, in the northwest, exudes regal splendor. With its majestic palaces,
impressive forts, and vibrant markets, this state is a living testament to India's royal heritage. Don't miss the iconic cities of Jaipur, Udaipur, and Jodhpur.
2. Kerala – God's Own Country: In the southwest, Kerala enchants with its tranquil backwaters, pristine beaches, and lush green landscapes. Ayurvedic treatments, houseboat cruises, and delicious cuisine make this a tropical paradise.
3. Himachal Pradesh – Abode of Snow: Nestled in the Himalayas, Himachal Pradesh offers a haven for nature enthusiasts. Shimla, Manali, and Dharamshala provide a respite from the summer heat, while snow-covered peaks beckon adventure seekers.
4. Tamil Nadu – Temple Trails and Traditions: Tamil Nadu, in the southern tip, is a treasure trove of
Dravidian culture. Explore the ancient temples of Madurai, the artistry of Chettinad, and the vibrant traditions of Chennai.
5. Goa – A Beach Lover's Paradise: Goa, on the western coast, is synonymous with sun, sand, and vibrant nightlife. Beyond the beaches, it boasts a unique blend of Indian and Portuguese culture, evident in its architecture and cuisine.
6. West Bengal – Cultural Kaleidoscope: In the east, West Bengal is known for its rich literary, artistic, and cultural heritage. Kolkata, the state capital, is famous for its cultural festivals and love for literature.
7. Uttarakhand – Gateway to the Himalayas: Uttarakhand, in the north, is a playground for adventure enthusiasts. Rishikesh offers spiritual experiences, while Auli and Mussoorie are winter wonderlands for skiing and trekking.
8. Gujarat – Vibrant and Historical: Gujarat, in the west, is a cradle of history, housing ancient cities like Ahmedabad and Dwarka. The state also offers colorful festivals, including Navratri and the International Kite Festival.
9. Assam – Tea and Tigers: Assam in the northeast is renowned for its tea plantations, wildlife sanctuaries, and the mighty Brahmaputra River. The Kaziranga National Park is home to the one-horned rhinoceros.
10. Punjab – The Land of Five Rivers: Known for its rich agricultural heritage, Punjab offers a taste of authentic Punjabi cuisine and the opportunity to explore Amritsar's iconic Golden Temple.
11. Maharashtra – A Melange of Experiences: Maharashtra, home to Mumbai and Pune, offers a diverse blend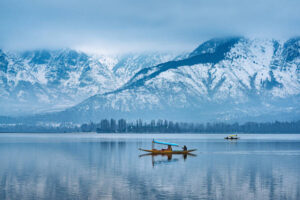 of modernity, history, and natural beauty. The state's stunning beaches and historic sites make it a traveler's delight.
12. Jammu and Kashmir – Paradise on Earth: Jammu and Kashmir, in northern India, is famous for its unparalleled natural beauty. The pristine valleys of Kashmir and the adventure sports in Ladakh are must-visit destinations.
Conclusion: India's diversity is nothing short of mesmerizing. From the grandeur of Rajasthan to the tranquil backwaters of Kerala and the spiritual journey in Varanasi, each state offers a unique piece of India's kaleidoscopic culture and geography. Whether you're seeking adventure, relaxation, history, or spirituality, India's different states have something special to offer. The best way to truly understand this incredible country is to explore it, one state at a time.